The following passage is As Gaeilge (In Irish) If you would like to read this blog in English follow the link at the bottom for the English version.
Is leabhar seo as an Leabharlann na theach mhór Béal na mBuillí, agus cinnte is leabhar aisteach é chun a tháinig ar sa leabharlann thiarna talún Ghall-Ghaelach. Seo é an Irish-English Dictionary ó Éadbhard Ó Raghallaigh, scoláire cáiliúla a rugadh i mBaile Átha Cliath i 1765. Ní raibh cainteoir líofa é Éadbhard, ach d'foghlaim sé a Ghaeilge as cúpla lámhscribhinní a cheannaigh sé i 1794. D'fhoilsigh sé a fhoclóir i 1817, agus thug sé dara eagrán amach i 1821. D'oscail Éadbhard scoil ghaeilge i mBaile Átha Cliath i 1810, agus d'oibrigh sé leis an Acadamh Ríoga na hÉireann agus an tSuirbhéireacht Ordanáis. Rinne sé cúpla botún mor nuair a bhí sé ag aistrigh logainmneacha don tsuirbhéireacht, agus dúirt a chairde ní raibh a ghaeilge labhartha foirfe. Sin á rá, is scoláire tábhachtach é, agus rinne sé cúnamh ollmhór don fhoclóireacht Ghaelach. Tháinig amach an eagrán seo i 1877, agus cuimsíonn sé forlíonadh as Séan Ó Donnabháin le 'cúpla míle focail' eile. Úsáideann an leabhar an Cló Gaelach agus an ponc séimhiú, agus tá sé lán le focail iontach agus litrithe traidisiúnta. Is dócha chun a cheannaigh Henry Pakenham Mahon an leabhar seo, ach ní dóigh liom go raibh aon Gaeilge aige mar níl aon leabhair gaelach ina leabharlann. Ní thuigimid cén fáth a cheannaigh sé an foclóir seo, ach b'fhéidir go raibh suim i theangacha aige mar bhí cúpla foclóirí do theangacha eile aige, laidineach agus gréagach mar shampla.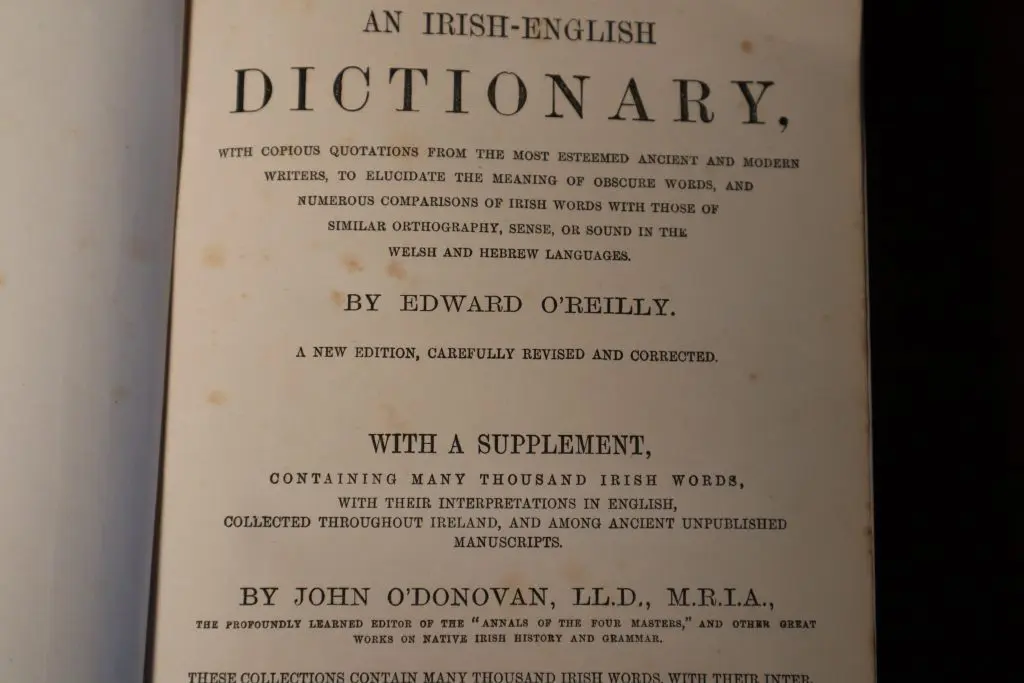 For information on our Seachtain na Gaeilge event featuring singing duo Séamus & Caoimhe Uí Fhlatharta click here
Explore Strokestown's
Latest News
Join us in Strokestown Park for our Victorian Christmas Experience.