Brigid's Awakening Festival is a collaboration between Strokestown Park, Rathcroghan, and Keenans of Tarmonbarry. Featuring local art, performances, and the incredible history of County Roscommon
Roscommon's newest festival takes place over two weekends from the 28th of January until the 5th of February with a mixture of cultural events from art exhibits including pieces by Francis Crowe, Margo Nulty, Lea Farrell, Ukrainian Artist Olena Kosalevych currently residing in Strokestown and short plays and historical talks there is something for everyone.
The Brigids Awakening festival celebrates the earliest version of Brigid the goddess prior to becoming the saint that is recognised today. As part of celebrating the goddess Brigid and St. Bridget, the traditional Connacht cross which was previously the most popular cross to celebrate St. Brigid's day is being used in place of the traditional Kildare cross. There will also be talks in Rathcroghan the Ancient Capital of Connacht where the topics of early female divinity and recent custom-making are covered by the expert team in Rathcroghan and Dr. Marion McGarry author of Irish Customs and Rituals.
As part of the Brigid's Awakening Festival, you are invited to attend a number of different pieces of visual art and entertainment. In Strokestown Park art from some of Roscommon's finest artists will be on display along with the illumination of Strokestown Park house featuring pieces of art from local schools and a short display of shadow puppetry. On Wednesday the 1st of February Ireland's largest St. Brigid's cross will be unveiled by the bridge in Tarmonbarry followed by the Tarmonbarry Players' performance of an original piece "Brigid's Cloak".
This festival would not be possible without the funding From Creative Ireland and the support of the Roscommon County Council. Special thanks must also go out to the Men's Shed, Women's Shed, Tarmonbarry Players, and all the local historians and artists without whom there would be nothing to celebrate.
Further information will follow on the Strokestown Park website and social media.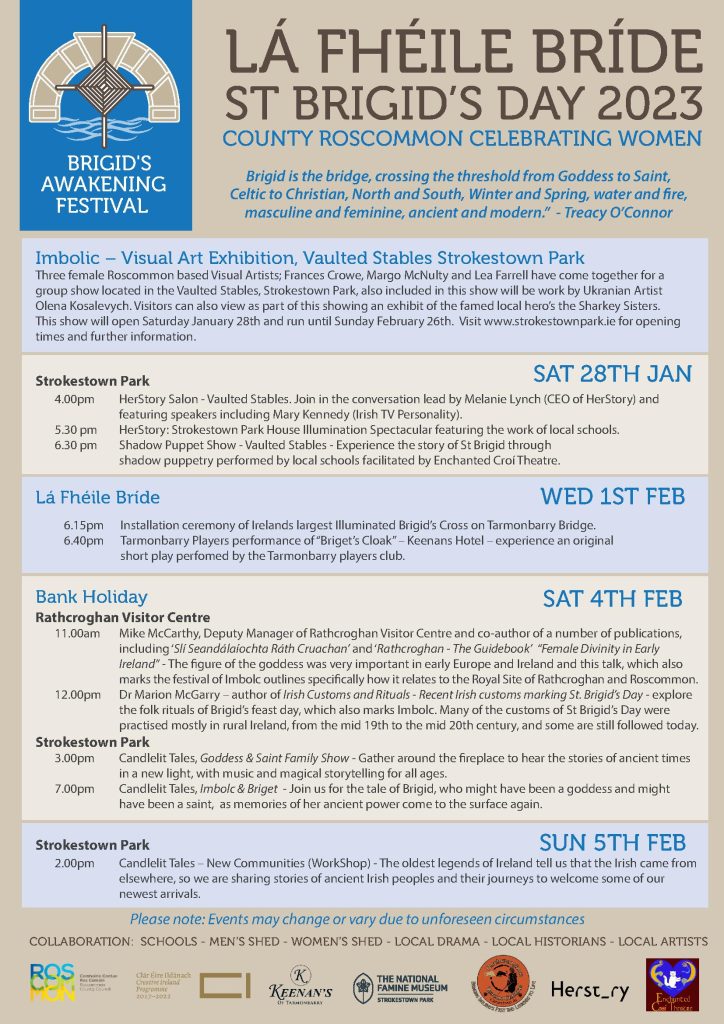 Explore Strokestown's
Latest News
Join us in Strokestown Park for our Victorian Christmas Experience.